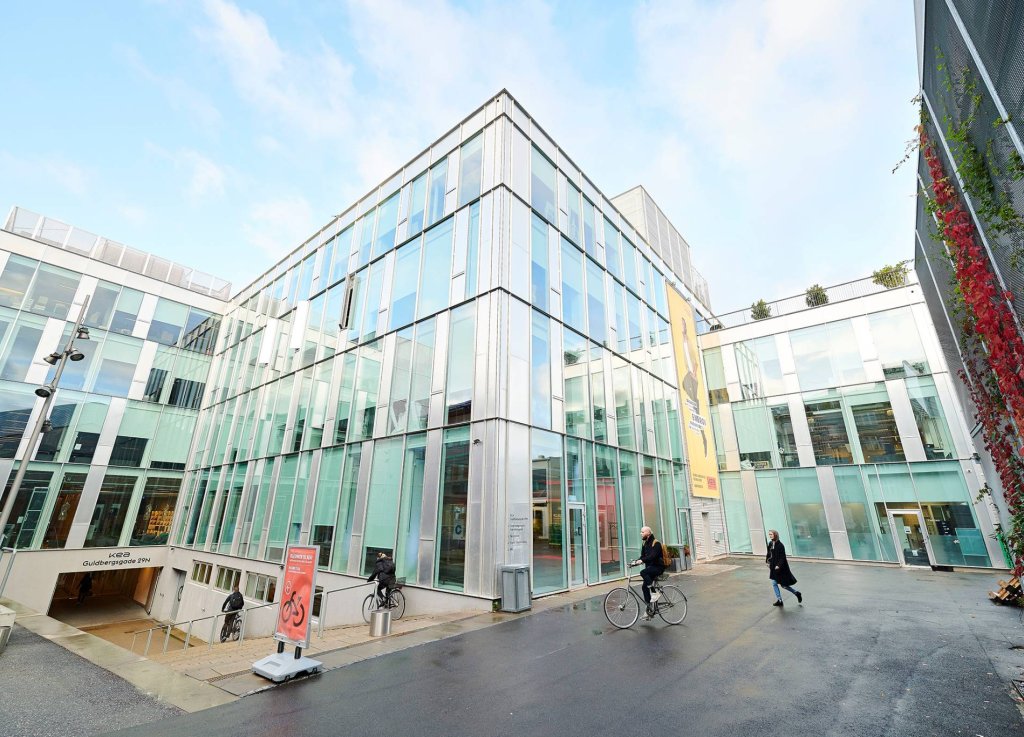 Labs at KEA
At KEA, you will find many different labs and workshops that students, teachers and alumni can use for projects, teaching and assignments. In the workshops it is possible to access 3D printers, laser cutters, robots, VR equipment and much more.
Circular Lab
Circular Lab works with materials and new business ideas with a circular mindset.
Circular Lab is a new lab at KEA and is under development.
As part of the Circular Lab you will find Material ConneXion. In Material ConneXion you will find physical samples, development and information about the latest materials.
Circular Material Lab
Circular Material Lab is a hands-on lab focusing on circular economy, sustainability and materials.
In the Circular Material Lab, there is room and space to explore, experiment and work with materials of all kinds. We focus on sustainability and circular economy, and we work with the materials with this in mind. We work with everything from seaweed, bioplastics and bacteria, to how to extend the life of existing materials in products, such as oil-based plastics, textiles and paper and much more.
The laboratory is used for teaching, workshops, events and experiments.
Lab 16
Lab 16 is a prototype workshop within AM/3D printing and SMD Electronics.
Lab 16 specialises in AM/3D printing and SMD Electronics, but also has a wide range of prototype/production machines such as a laser cutter, CNC cutters, a plastic injection moulder and a printer cutter.
Lab 16 is for students, alumni and collaborators.
Equipment and machinery
In Lab 16 you can find:
Air Brush
3D printere
3D scanner
Sticker printer
Maker Lab
Maker Lab is a prototype workshop for KEA's students, teachers and members of partner institutions.
Students at KEA can use Maker Lab in connection with projects and activities during their studies.
Equipment and machinery
In Maker Lab, you can find machines for:
Laser cutting
3D printing
CNC milling
Digital textile printing
Screen printing
Foil printing/cutting
Tech & Story Lab
Tech & Story Lab is a lab focusing on new technology for KEA's students, teachers and other employees. 
In Tech & Story Lab, you can experiment with new technology and learn to work with different equipment on your own. We have everything from cameras, microphones and lighting equipment to VR gear, AI technologies, RaspberryPi's and much more.
In addition, Tech & Story Lab has a podcast studio and many other exciting facilities on the way. 
Equipment and machinery
In Tech & Story Lab, you can, for example, find equipment within:
Photo/Audio/Video
Artificial intelligence
Virtual Reality
IoT (Internet of Things)
Computers and mobile devices
Program specific labs
In addition to our cross-disciplinary labs, we also have several programme specific labs. The programme specific labs range widely, but are only available to students on the programme in question.
EXAMPLES OF PROGRAMME SPECIFIC LABS AT KEA
BIM Café (for our BUILD programmes)
Code Lab (for Computer Science)
Energy and Technology Lab (for Electrical Service Engineering, Service Engineering (Plumbing Technology), Energy Technology and Energy Management)
Fashion Labs - including Fashion Lab, Fashion Tech Lab and Knit Lab (for "Sustainable Fashion Tech", the special line of study at Design Technology and Design & Business)
ITT Lab (for IT Technology)
Surveying Equipment (for the Surveying and Mapping programme)
SMYK Lab (for Jewellery, Technology & Business)
XR Lab (for Product Development and Integrative Technology)
You can see the full list of programme specific labs on mit.kea.dk (our intranet for students - only in Danish)