Admission test
Get an overview of the admission process for the programmes that have an admission test.
This information is relevant if you want to apply for one of these programmes:
Design, Technology and Business
BA in Design & Business
Important dates
15 March 2021 at 12:00 noon:
Application deadline for admission. Find more information about admission on each programme.
March/April 2021:
You will get access to the admission test 26 March at 12.00 noon CET via WISEflow. You must hand in your admission test no later than 6 april at 12.00 noon CET.
9 July 2021:
Have you applied for BA in Design & Business, you will receive your final reply to whether or not you are admitted to the programme.
28 July 2021:
Have you applied for Design, Technology and Business, you will receive your final reply to whether or not you are admitted to the programme. 
9 August 2021
Admission test feedback can be given by phone, if you are not admitted to KEA. Please contact us no later than 9 August by e-mail: applicant@kea.dk
The process
1. Entry requirements
Before applying for admission to a degree programme, you must ensure that you meet the entry requirements. You can see the entry requirements in the "Admission" section on the programme page: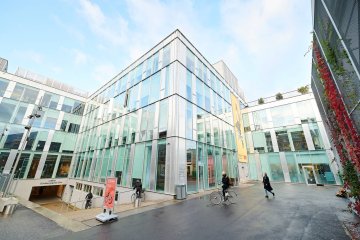 2. Application
You fill in your application at www.optagelse.dk or on kea.dk no later than 15 March at 12.00 noon. Find more information on the programme you wish to apply for.
Admission area number (only relevant on optagelse.dk):
Design, Technology and Business: 73015
Specifically for BA in Design & Business:
You choose your specialisations when you do your admission test(s)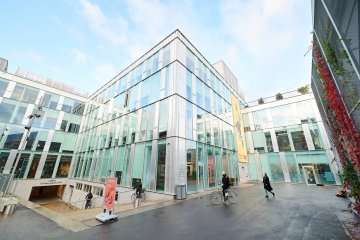 3. The admission test
From 26 March - 6 April you can work on your admission test(s). 
During March/April you will receive:
1. An email from WISEflow (a couple of days before 26 March)
WISEflow is a digital system that can be accessed from PC or Mac (use browsers Chrome or Firefox - not Explorer). The system is used for conducting most tests and exams at KEA.

In the email, you will find a link from which you must activate your account to participate in the admission test. Keep an eye on the email you have specified in your application. If you do not receive an email from WISEflow, try checking your spam filter / junk mail.
2. A number of mails from KEA
Depending on how many educations with an admission test, you have applied to.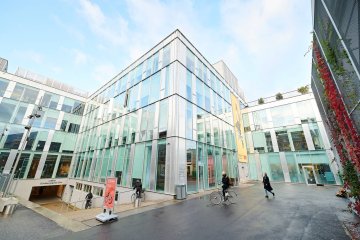 4. Upload the admission test
The deadline for upload and hand in of admission test in WISEflow is 6 April at 12.00 noon CET.
You must log on to WISEflow and upload a single PDF as your submission for the admission test. If you have applied for more than one programme at KEA Design, you must upload a PDF for each one.
Be aware that your submission will be rejected if you do not upload in PDF. Remember to press "Hand in", otherwise we won't receive your test.
Frequently Asked Questions - Q&A
Content
What questions will I be asked in the admission test?

The admission test is twofold. In the one part, you will be asked subject-specific questions relevant to the programme (and possibly specialties) you apply to. In the other part, you will be asked about your motivation to apply for the programme.

The admission task should help to elucidate your basic competencies and should not be seen as a test with clear-cut answers.

Is the admission test difficult?

How you experience the difficulty of the admission test is entirely individual. This may depend, among other things, on your prior knowledge in the field, your experience in taking tests, etc.

How long time do I need to spend on the admission test?

We can only recommend you to set aside plenty of time as it is the admission test that determines who is offered a place on the programme. So do your best and get someone else to look through it for linguistic errors. You often lose sight of the details when you focus on something for a long time.

Can I get help taking the admission test?

You must solve the admission test alone, and therefore others are not allowed to write for you. However, you may look at relevant literature, magazines, videos, etc. for inspiration.

At KEA's library you can find the books of each programme's syllabus. Here you can get an insight into some of the themes taught on the programmes.

You can also have others proofread your test before handing it in.

Who assesses the admission test?

So does a group of teachers on the programme you are applying to.

How can I prepare?

You can:

Practice your understanding and analysis of the world near and far – and not least the people who populate it.
Expand your design/business understanding. For example, by examining the business models behind various design brands.
Practice your knowledge of working innovatively and entrepreneurially. For example, by reading about or contacting companies that are successful in innovation and new business.
Look at companies' concepts, communications, media platforms and use of tools and techniques in relation to their customers.
Practice relevant creative skills in relation to the specialties you apply to. Learn how to visualise, sew, model, drape, build, author, invent and develop
Practicalities
How many admission tests can I take?

You can take up to two admission tests on the same programme. If you submit admission tests for two specialisations, you must prioritise the specialisations.

How do I choose a special line of study on the AP Design, Technology and Business programme or the top-up Design & Business programme?

You can read about the special lines of study on the two programmes' pages on kea.dk. Keep in mind that you can apply for up to two special lines of study.

In practical terms, you do not choose which specialisation(s) you apply for until you do the admission test

Can I get feedback on my admission test if I don't get accepted?

You can get telephone feedback on your admission test if you are not admitted to KEA.

Contact us at APPLICANT@KEA.DK at the beginning of August (exact deadline can be found above).

Can I see previous admission tests?

No, unfortunately, that's not possible.

Hopefully, you can find answers to your questions in this Q&A.

Should I attach a motivated application and portfolio to my application at optagelse.dk and kea.dk (top-up)?

No.

Before 15 March, you only have to apply through optagelse.dk. Here, you just need to document that you meet the admission requirements.

After that, it is only the result of the admission test that determines whether you are admitted to the programme.

Do I need to be able to sew, draw, use Adobe applications and the like before applying to KEA's programmes?

Only the formal admission requirements determine whether you can access the admission test.

Depending on which programme (specialisation) you are applying for, it may be advantageous to be able to sew, draw, use Adobe applications, and the like.

I've had a job with a renowned designer. Do I have an advantage?

You do not have an advantage as such, but maybe some of the knowledge and experience you have through your work can be used to answer the admission test.