Kasper Miller and O´Mahony Pike Architects were nominated for KEA Internship of the Year. He impressed everyone with his BIM (Building Information Modelling) skills and his design of three multi-storey buildings containing 320 apartments.
" He will definitely succeed in this world -. BIM skills or not. If all my employees had the same attitude as he does, it would be easy to run a business. He just has to pick up the phone and call if he wants to change his line of business," the jury unanimously said.
O'Mahony Pike Architects were also thrilled about the young BA student of Architectural Technology and Construction Management.
" Kasper Miller's internship was unusual regarding the quality of his work, his drive in terms of throwing himself into complex projects and the professionalism he displayed.
This meant that he quickly began to enjoy the confidence of his colleagues, which made us give him more assignments and more project responsibilities than we would usually give an intern.
We were also impressed by how fast he acquired new skills in a very busy and deadline-driven work environment.
His professionalism and performances were openly recognised by our CEOs, and we were happy to be able to offer him a full-time job at the end of his internship period. We have been very impressed by the overall level of skills, competences, knowledge and passion that Kasper has demonstrated and it is also an acknowledgement of KEA," says Denise Redmond, Associate Director at O*Mahony Pike Architects, which has 110 employees and is situated in an old chapel in Dublin.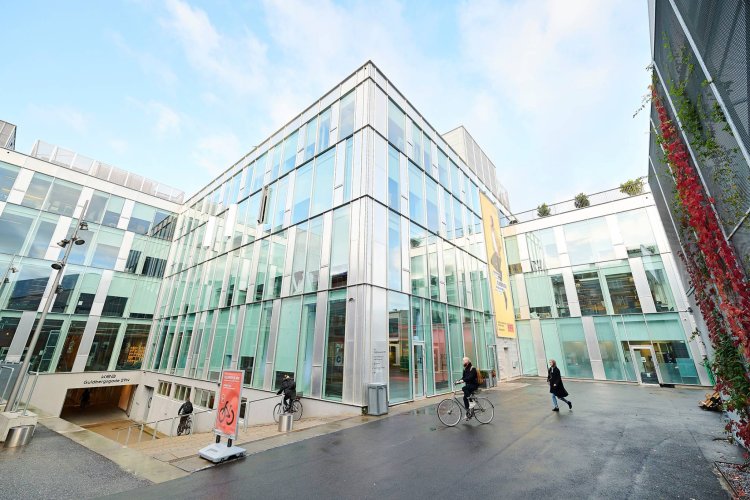 When Kasper Miller started his internship, the company was facing a difficult situation; they had to work out a project in less than half the time that they had originally allocated to the purpose. Kasper Miller was put in charge of the Montpellier Hill project from start to finished tender documents – a project consisting of three individual multi-storey buildings that will contain 320 student apartments
"It's been a couple of hurried months with long working days and almost impossible deadlines. In other words, it's been exactly what I hoped it would be. It is incredibly rewarding to be working among professionals who use a different BIM standard and different building acts and regulations than the ones we know back home in Denmark," says Kasper Miller who, in his own words, has gone from "intern to professional" thanks to O'Mahony Pike Architects:
"My best experience is not a single one. Rather, it's the transition period in which I was given more and more responsibility by the architect and the possibility of taking on assignments of interest to me. The transition from being an apprentice to being an independent professional was exceptionally exiting, my colleagues never showed any sign of abandonment, and neither did I. A great part of the work was to discuss how to solve the many tasks connected with the project. I was met at eye level and, from day one, I was given great responsibility in the company. And as late as last week, I was promoted and am now in charge of a pilot project together with the BIM manager of the company. The purpose behind the project is to show what state-of-the-art BIM technology is capable of today. This is not a company in which you can expect to have Friday bars and river dance. On the other hand, it is a company that offers you a stepping stone if you are willing to make the necessary run-up. A company where people are very kind and co-operative both professionally and personally. Without this approach, I would not have come anywhere near the results that this internship period has yielded."
In connection with his Architectural Technology and Construction Management studies, Kasper Miller went to South Korea where he met the love of his life whom he later married. However, at first glance, it did not seem very likely that Kasper Miller should hit the jackpot:
" Three years ago, I was quite despairing having just dropped out of CBS. That my situation has taken such a positive turn makes me immensely grateful."
Together with four other students and companies Kasper Miller was nominated for KEA Internship of the Year. The name of the winner, i.e. Kasper Miller, was published on 24 April and Kasper Miller will proceed to the national competition Business Internship of the Year which this year will be held at LEGO House in Billund on 16 May.
The jury, which selected the five nominees for KEA Internship of the Year, consisted of Anne Christine Persson, CEO at Monies, Mikkel Jespersen from 1508 and Charlotte Teinby, HR Business Partner at Solar.